You must login to post comments
The answer seems to be "YES".
They don't break out AWS as a line item, but it's pretty easy to infer that it's a big chunk of the pie.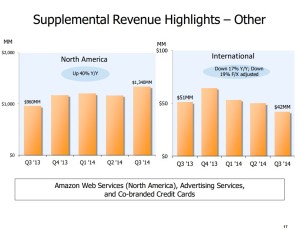 Mr Sandler predicted that AWS would increase revenues by 50 per cent in 2016, building a business with an enterprise value of $162bn in 2017 — slightly higher than Amazon's retail operations.
AWS will also be key to Amazon's ability to sustain profitability this year. Investors will listen closely on Thursday for fresh clues about investment plans for the unit for the next year.
The company has already said it will launch five new cloud computing regions this year, including China, India, Canada and the UK. Each market will have its own data centres and networking infrastructure, and require a spurt in capital expenditure that recently prompted Goldman Sachs to cut its projections for Amazon's 2016 operating income.
Pressure may come on AWS revenues from industry price cuts, particularly as it competes with other deep-pocketed cloud service providers such as Google and Microsoft.
Amazon is very cagey about how they handle AWS. It's common knowledge that all of the Amazon infrastructure itself is in AWS, but how they account for that is obscured. I'm sure it's all completely above-board, just maximized for most favorable tax treatment.
You must login to post comments
Your Answer
Please login first to submit.